We're always looking for new designs.
NEXT DESIGN DEADLINE: MARCH 31, 2011
Are you a designer? We want you to pick up your art supplies and put on your creative hats! We are constantly in need of new card designs.
Current design priorities:
Birthday cards
African animals (e.g., gorillas, zebras, giraffes, lions, leopards, rhinos, monkeys, elephants)
Christmas and Holiday cards
Mother's and Father's Day cards
Thank You cards
Designing cards for us can be a great way of adding commercially-produced products into your portfolio!
Here is what we are currently offering for each card we accept:
US$150 in credit in the Cards from Africa online store, or US$100 in cash
We would be happy to list you on our Meet Our Designers page, if you wish.
We would be happy to list your name as the designer on the card detail page.
If we accept a design into production, we are purchasing your design for exclusive commercial use. You will be able to place this design in your portfolio as an example of something that is commercially successful, and continue to use it for personal, non-commerical use.
Here's the process for submitting card designs:
Create a physical or digital sample of an 11.5cm x 16cm (4.5in x 6.3in) card. Some people like to create the card by hand. Others will mock it up in Photoshop. Either method is fine with us.
Turn the sample into a JPG file no larger than 1mb. If you physically make a card, please scan it. If you design it in Photoshop, please save it as a JPG less than 1mb in size. If you don't have a scanner, you may take a digital photo of your card, but we find that colors don't come out as well.
Send the file to us via email by March 31, 2011. Email the samples to designs

@

cardsfromafrica.com. Please include no more than five designs per email.
We will notify you by June 30, 2011 if your design is accepted.
We want to thank you in advance for coming up with designs for us. Because of market conditions, we can't accept all designs; we need to balance commerical viability with production costs. The best cards are what would be produced by an exceptional hobbyist, but not overly complex. Some additional tips for designing cards for us:
Take a look through our collection to see what we are able to do and what materials we have access to.
Simple designs are best. Fine-art paintings are nearly impossible for us to replicate, but cards with clear, distinct elements are very possible.
We are not able to buy stickers or plastic embellishments here but we can try and replicate designs out of beads, wood, wire, string, sand, cotton, paper, and a whole variety of other natural materials. Many of our most popular cards incorporate some embellishment like beads, wire, or string.
We can produce a wide range of paper colors. This is not necessary for a design submission, but you may purchase sheets of our handmade papers to see what you can work with.
Consider partnering with us and you will make an enormous difference in the lives of Rwandan youth! If you have any more questions, please feel free to contact us.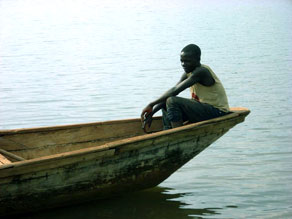 Rwanda is land rich with natural beauty, some of which we incorporate into our cards.